| | | |
| --- | --- | --- |
| | | |
Home > Restaurants > The Victoria > Recommendations
Reader Recommendations for
Share your experince of dining out in . Simply search for a restaurant you would like to review and use the links.
Change region:
Exactly
58
24/11/2012
Visited by amanda
stunning food again great service. want to go again tonight.
19/09/2012
Visited by Dave M Wrexham
excellent service, excellent food, would recommend anyone to try the Vic..
20/05/2012
Visited by Nikky, Northwich
Had a superb meal again yesterday. The food is wonderful and the atmosphere is relaxed. The service was perfect as always. The Victoria is Michelin recommended, but really with it should have a star for its food and ambience.
A truly great Food & Gin Palace (other drinks are available).
17/04/2012
Visited by Caroline. Timperley
We have eaten here three times and are looking forward to our fourth visit this weekend. Each time we have left feeling truly spoilt and almost speechless both at the standard of service and the outstanding quality of food we have devoured. The menu is always imaginative and mouthwateringly creative. Our only problem is deciding which of the dishes to choose. Every time we find ourselves questioning why on earth the Victoria hasn't been given Michelin status . The atmosphere is always warm and jovial without excessive background 'noise' which means it is easy to enjoy having a conversation with those around the table. The staff are attentive but not obtrusive and the waiting time between courses is exactly as it should be; neither rushed nor too long. The choice of wines and beers is superb as is the knowledge of the staff who are always happy to suggest suitable choices.
Altrincham is lucky to be the home of, in our opinion, the best eaterie in the UK!!
24/02/2012
Visited by Liverpool
I have visited this restaurant on a number of occasions and have always enjoyed the visit. The staff are friendly and the food is excellent.
It is well worth a visit.
08/01/2012
Visited by Kirsty, Sale
Visited this restaurant after being referred, and it was fabulous. Great service, ambience and wonderful food and drink. They list the suppliers they use for locally sourced food which is good to see. Good meat, fish and vegetarian selection also.
Great experience, good balance of upscale pub, with gastro food and drink. Great if you like good Belgium tap beer and excellent wine. Will definitely return!
06/01/2012
Visited by Claire, Altrincham
We had a meal for 5 people at the Victoria on Christmas Day. The food was amazing - all locally sourced and cooked to perfection. The atmosphere was lovely - i felt like i was in an old Christmas movie. Think it might become an annual tradition!
05/01/2012
Visited by Fiona, London
The food was delicious. I had the duck hot pot for main and would definitely recommend it. The restaurant was a little quiet, shame more people weren't enjoying the food food. Staff attentive and friendly
09/11/2011
Visited by Clive, Altrincham
Great Food, Great Service, Great Staff
07/09/2011
Visited by Nick, Alty
Had a wonderful meal there last night. The quality and size of the dishes is far superior to anything nearby. We will definitely be returning soon!!
13/08/2011
Visited by Ian and George
Absolutely wonderful, incredible food and outstanding service. Been twice now the first time we just turned up and we managed to get a table the second time we booked. The crab cakes are to die for, for main course the liver is amazing and so is the chicken and broad bean pie in a suet pastry cant wait to return....very soon
28/03/2011
Visited by Kate, Sale
Had a lovely evening out here with 2 friends. The food was divine and plenty of it, the atmosphere was cosy and comfortable, very relaxed. Service also excellent - waiter knew his champagnes! We thoroughly enjoyed the Louis Roederer! Will definitely return.
13/03/2011
Visited by Steve Hale
Dropped in for a late lunch and feasted from the bar menu, the starters from the full service menu - fabulous and fantastic value. The whole package was what was required and a welcome change from a busy bar selling rock-bottom-priced beer with the footie blaring in the background and poor food. With one person running the whole front of house part of the operation the place was spotless and the service was professional yet friendly. An independent oasis in a desert of big brewery mediocracy. Definitely a place to bookmark.
16/09/2010
Visited by Nikky, Northwich
Had a superb meal here after it was recommended by a friend. The food is delicious and the service friendly but unobtrusive. Will definitely go back.
22/08/2010
Visited by Julia&Pete , Sale
Can't believe I actually want to write a review about a pub that I always thought of as a real dive! This place has to be the best place to eat in the whole of Altrincham. The food is truly amazing and the whole experience of dining there is fabulous. You'd be doing yourself a huge favour by trying it. Would advise booking as it tends to get quite busy. Always a good sign!
21/08/2010
Visited by Mark, Altrincham
Great food, attentive staff. Really love the imaginative starters, could choose two or three. Portion sizes are healthy, so its always a stretch for pudding. highly recommended, and a real treat to have this within walking distance!
23/06/2010
Visited by Lou Altrincham
Great service, friendly and warm. Starter and main course were amazing. Best food I have had locally by far. Dessert was not bad but did not wow me. Usual story, restaurant not prioritsing desserts. Only other gripe was more subdued lighting would add to the ambience.
31/05/2010
Visited by chris and cat , bowdon
Our favorite local restaurant and boy do we like eating out. Local produce with a north western edge done with flair, imagination and talent. The nicest and most sociable front of house you will find for miles. Great wine and good beer. The only frustration is arriving at desert with every intention of indulging only to find yourself completely stuffed! I challenge anyone to go for an early evening drink, look at the menu and not say 'you haven't got room for two have you?'. Try.
30/05/2010
Visited by Ruth and Dick, Amersham
Four of us ate here a couple of weekends ago. A real find, tucked away in a corner of Altrincham. Short but unusual and imaginative menu; great ambiance and very friendly but unfussed service. BE warned - the portions are a good size!
20/05/2010
Visited by Emilia, Chorlton
Amazing. Ate just after Christmas with my friends. One of the best meals I have ever had. My only problem was I could hardly fit in my pudding. I did though and the Black Forrest Sundae I had was so delicious I would have gone back the next day for more if I could. Go to the Victoria you will not regret it. This place is a hidden gem.
02/05/2010
Visited by Anne, Timperley
Visited for lunch again and enjoyed ourselves just as much as on the previous occasions. Lovely, freshly prepared local produce, beautifully presented and served. Why go further afield when you have this on your doorstep?
25/02/2010
Visited by Sarah, Timperley
we went for my birthday last week and the food was as good as usual, but the chef is rather overfond of creamy sauces, also I wasn't expecting onion and cider soup to be cream-based, so it was a bit rich to follow that with fisherman's pie.
15/02/2010
Visited by Altrincham
WOW! Sumptuous fayre and I have eaten some borage in my time!
29/01/2010
Visited by Steve, Altrincham
The food is fantastic! I've eaten in all the places in Altrincham and the quality of the food and presentation here is the best by a mile!
27/01/2010
Visited by Linda & John Timperley
It's our favourite place to eat and we are never disappointed with the food or the service. They have introduced us to some lovely wines as well. All in all a great place to dine. Bring on the first Michelin star!
All reviews will be passed onto the business reviewed but some reviews may not be published for legal reasons. View disclaimer -
Click here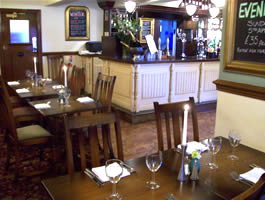 29 Stamford Street
Altrincham, Cheshire
WA14 1EX
0161 613 1855