| | | |
| --- | --- | --- |
| | | |
Home > Restaurants > 107 Dining Room > Recommendations
Reader Recommendations for
Share your experince of dining out in . Simply search for a restaurant you would like to review and use the links.
Change region:
Exactly
8
06/06/2012
Visited by Chester
Me and a large group of friends had breakfast before chester races at 107 and have to say that it was a perfect start to our day and would most definitely be returning again soon.
01/10/2007
Visited by Heswall
I have been several times now and am delighted to see the menu changing so there is always something new to try but with the old favourites still available. The staff are always on top form and prices are variable so there is something for everyone.
22/06/2007
Visited by Melissa
I have eaten here on several occasions and every time it has been fantastic with great service. highly recommended..i drive miles to go there! i recommend that you book as it does get full!
17/04/2007
Visited by leanna
i came into the restaurant a few days ago and the service was excellent. the young girls where really friendly. i offered one a tip and they said they couldnt accept it. SO who does the tips go to??
22/02/2007
Visited by wigan
my mum and her boyfriend are going to this restaurant tonight let u no what they think x j x
08/02/2007
Visited by Caron Hunt
If you're looking for somewhere stylish to eat, with quality food and great atmosphere - look no further! if you go between half 5 and half 7 you can have the 'beat the clock' menu which is truly great value for money. Highly recommended.
17/01/2007
Visited by Kathryn - Wirral
I eat at the 107 a lot and I have to say the food and service is always second to none. Whether it's for a working lunch or evening meal, the menus are full of choice and exceptional value for money.
I would (and do!) reccommend the 107 to everyone and have not yet heard anyone talk of their vist negatively.
The toblerone fondue, by the way, is the best thing on the menu!
16/11/2006
Visited by Kevin, Cheshire
went on Sunday afternoon 12/11/06, never been before so straight away i was amazed by the beautiful surroundings and the view.
Inside fantastic atmosphere with live music that was melded into the backround allowing easy conversation.
The food was first class made with top quality fresh produce used to make up these innovative dishes.
Also excellent friendly service.
A wonderful way to spend sunday afternoon with my wife.
All reviews will be passed onto the business reviewed but some reviews may not be published for legal reasons. View disclaimer -
Click here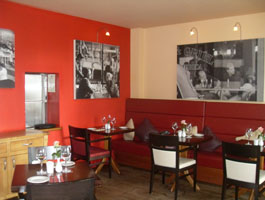 107 Telegraph Road
Heswall, Wirral
CH60 0AF
Tel: 0151 342 3420