| | | |
| --- | --- | --- |
| | | |
Home > Restaurants > Lobster Pot > Recommendations
Reader Recommendations for
Share your experince of dining out in . Simply search for a restaurant you would like to review and use the links.
Change region:
Exactly
9
08/05/2012
Visited by Andy Gearing
Had another wonderful Sunday lunch at the Lobster Pot. Three generations of us sat and ate a lovely meals lokking out on amazing views. Friendly, attentive staff made it a very relaxing experience.
12/09/2011
Visited by steve cox
went bank holiday saturday night..very busy as you would expect..food superb service excellent difficult to fault in fact there was nothing to fault!! go and enjoy the seafood or the excellent beef from the local butcher in bodedern you wont be disappointed
26/03/2011
Visited by Neil Edwards, Cannock Staffs.
We all visited the Lobster pot in February 2009 as a family and though the food, atmosphere and sevice was excellent, well Done. 9/10
31/03/2010
Visited by Luke
my grandmother has been coming to the lobster pot for a number of year even knowing the previous owners, Had the Lobster thermidor and it was nothing short of perfection... Great seafood Great atmosphere..4th time I've been now and will be back again
09/08/2009
Visited by john delap macclesfield
Fantastic restaurant one not to miss this has to be the number one fish restaurant in the country and the meat dishes are not bad too please go you do not know what you are missing
08/06/2008
Visited by Heather Poole Manchester
We noticed the Lobster Pot in 2007 when visiting Church Bay, however we were unable to get a table on the day. We came back in 2008 and booked a table for the Saturday night (we learned our lesson). The place was busy but the food and service was excellent, winkles on the bar were a great touch. The only thing that stopped me giving the place a 10 was that there wasn't much space between the tables but this really was a small price to pay. Only wish I lived local I'd be there all the time. Truely scrumptious :-P
24/01/2007
Visited by four mile bridge
we knew you were renowned for lobster/seafood-also thank you for the perfect fillet steaks
27/09/2006
Visited by Llaingoch, Hollyhead
Just a short message to thank you for the excellent Sunday Lunch this last week. Even though the beef was not available , the Duck offered as an alternative was superb
and both Yvonne and I enjoyed it to the extent that we consider it probably the best we have ever had.The service was excellent and we shall definitely be returning in the not to distant future.

Many thanks for a memorable meal and the excellent service

Derrick and Yvonne Edwards
06/09/2006
Visited by Aberffraw
Excellent food and I'm not even that keen on seafood, the best duck I've ever tasted! Brilliant service and a homely, warm atmosphere.
Thanks guys :D
All reviews will be passed onto the business reviewed but some reviews may not be published for legal reasons. View disclaimer -
Click here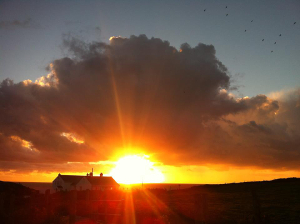 Church Bay,
Isle of Anglesey
LL65 4EY
01407 730241