| | | |
| --- | --- | --- |
| | | |
Home > Restaurants > Y...Mcgregor > Recommendations
Reader Recommendations for
Share your experince of dining out in . Simply search for a restaurant you would like to review and use the links.
Change region:
Exactly
37
10/10/2011
Visited by Lisa, Altrincham
Best juices ever, really fresh and exciting, best cafe in Alty, love it!
12/12/2010
Visited by Sean Condon
What a refreshing change - staff were friendly and the cafe was lovely and clean. Enjoyed my coffee and then stayed for lunch - it was so good I don't need to go out for dinner.
04/09/2010
Visited by Sandi Gascoigne Southport
Visited after my cousin recommended Y Mcgregor back in March. Fab food and service and very child friendly too!!!Great venue to meet up and chat with old friends. Spotlessly clean too.
07/03/2010
Visited by Jamie Gascoigne
I was cold, wet and feeling a bit down - not anymore! The perfect drop in.
05/03/2010
Visited by Jean Addis
I don't normally write my comments but on this rare occasion I want anyone reading this to know that Y McGregor was a delight and the Specials were delicious. You should all treat yourselves - I did and loved it!
05/03/2010
Visited by Nick Hale
I liked this place so much I asked if I could hire it for an informal 'after works' do. My staff thought it was lovely and enjoyed the coffee, tea and food that was served. Jo McGregor and her team could not do enough to help and everyone appreciated it. The place was spotlessly clean.
02/03/2010
Visited by Manjot Sharma / Hale
Far better than Costa and Cafe Nero. The coffee was delicious and had stregth which is more than I can say about all the others - nice place too.
01/03/2010
Visited by Stuart Johnson
The breakfasts are fantastic, very good value and served on nice warm plates. Great place to re-energise in
19/02/2010
Visited by Kevin Hopkinson / Hale
Why do we bother with these branded coffee shops which all look and feel the same, when there are places like Y...McGregor. The whole experience made me feel special. Excellent!
16/02/2010
Visited by Greg Sherriff
Excellent place to eat and such a nice atmosphere. Popped in with my family for a coffee and we ended up having a full breakfast and what a feast!Go ahead and try it.
15/02/2010
Visited by Alex, Timperley
Brought my dad here for breakfast this morning. Lovely, friendly staff. Bright and cheerful atmosphere and great choice of breakfast. Will be my first choice for coffee from now on!
06/01/2010
Visited by Elaine McGowan
Popped in for the first time and was met by delightful staf who served me with a smile and gave me a perfect break from all this snow. They made me feel I was on hoiliday - how good was that!
30/12/2009
Visited by Altrincham
Just popped in for the first time and what a find! Delightful service and a warm atmosphere that was always friendly and personable. Specials were exceptional value
21/08/2009
Visited by Joanne, Appleton
Had lunch here today with Mrs Onionring! Was lovely, service personal and friendly. BLT delicious!
06/02/2009
Visited by Penny Newton
Lovely, lovely, lovely. What a treat to have something this good in Altrincham
06/02/2009
Visited by Richard Hopkinson
What a find! Fast, healthy food in a delightful surrounding.
03/10/2008
Visited by Martin, Bramhall
ultimate smoothie is lovely, lovely ambience and code of ethics.
02/08/2008
Visited by Jessi, amersham
Fantastic! We had lunch here when visiting family in the area and were spoilt for choice with all the delicious sandwiches, salads, snacks and smoothies on offer - and all wholesome! I particularly liked the granola yoghurt pot i had, but everything on offer looked tasty! Please open a Y...mgregor near us - it would go down a treat
22/03/2008
Visited by John, Altrincham
Very nice, been a few times and food has always been great. Well prepared and well served. Will keep going.
20/12/2007
Visited by Jimmy Comer, Middleton
The best i have ever seen......
20/12/2007
Visited by George, Manchester
Quite simply the best wheatgrass shots on the market.
27/06/2007
Visited by Nick Bevens
What a shame about the scaffolding which has been erected to fix the roof of the main building. Once in the shop however, I was overwhelmed by the pieceful, fresh ambience and the friendly welcome. I loved it and will be back because everything was right, in particular the sandwiches which had so much taste about them and lacked all that gooey mayo everyone else pours on. Well done and good luck I'll be back along with my friends.
06/06/2007
Visited by sarah smith
delighted to have healthy fast food on offer for my lunch break.. keep up the good work
06/06/2007
Visited by Stevie caunt
I fell in love with Y... McGregor. It has a wide range of delious,healthy food and refreshing smoothies. My ultimate favorite thing which I have everytime I go there is their panninis. They are really tasty and good for you at the same time. Well you have heard what Ive got to say. But dont take my word for it. Whenever you are in the area just pop into Y...McGregor. You will never regret it!
24/05/2007
Visited by Steve Gascoigne, Southport
Whilst visiting friends in Altrincham, we stumbled across this littel jewel. Personal service, organic and tasty fare -great muffins!. Clean and modern with eveything prepared on site. Def worth a visit.
All reviews will be passed onto the business reviewed but some reviews may not be published for legal reasons. View disclaimer -
Click here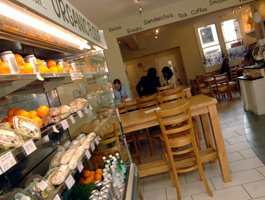 29 Stamford New Road
Altrincham, Cheshire
WA14 1EB
0161 9281487