| | | |
| --- | --- | --- |
| | | |
Home > Restaurants > Goose Green Room > Recommendations
Reader Recommendations for
Share your experince of dining out in . Simply search for a restaurant you would like to review and use the links.
Change region:
Exactly
25
02/12/2012
Visited by Morten Hogarth
We had an excellent night on Saturday, the band were amazing, great bar, by far the best in Altrincham.
07/03/2012
Visited by simon edwards altrincham
I had a joint 40th birthday there when the bar as located on the other side of Goose Green and it was a legendary night! Great atmosphere, chilled out with no pressure to use their music so we used our own ipods. Morris and Aradhna are always friendly with a warm welcome and the new location take the bar and now restaurant to a new, even higher, level. The drink variety is superb and the food was fantastic, so much so that I had a review of this venue published in the 'Manchester Evening News'
07/02/2012
Visited by Scarlet , Altrincham
I had a great time! It was sooo good, and, I would definitely recommmend this restaurant to a friend! Loads of friends! The food was great and so were the staff. This is the best restaurant I have ever been to!
01/12/2011
Visited by Jon Martin,B,ham.
Arived at opening time on Saturday Lunchtime.on the way to the Etihad Stadium,so well looked after,very polite welcoming lady,with a manner which suggests she will do well in the industry!
We,my daughter and I, enjoyed the Burgers we chose,the wine,a nice Shiraz,and we beat Newcastle!great day,enjoyed the meal as much as the win!Thankyou Green Room.
14/11/2011
Visited by warrington
from start to finish it was excellent.the food was so tasty and well cooked. excellent service.great value for money.will definitley be returning.
04/11/2011
Visited by Sarah, Timperley
Made to feel very welcome by Mark. Excellent service.
Food was top notch quality, super value for money. Will be going back for more!
12/09/2011
Visited by Adele Altrincham
This is altys best bar without a doubt!!!!! Live music, fantastic service, outstanding staff, always a friendly welcome, feels warm and inviting inside the bar with excellent beers and wines, tried out the grill bar too and the food was spot on and same again with the excellent service. I recommend anyone to come here, what a brilliant bar!
03/08/2011
Visited by Dylan, Manchester
Had dinner at The Green Room last night with friends and all made a promise to try different things to really review the menu. All I can say is that we wish they had done this years ago - it's about time you can get a decent burger in Altrincham! From garlic mushrooms and chicken starters to the wonderful burgers with various toppings and excellent rump steaks, we loved it (our table even had a beer pump in it!). To top it off we all agreed that the cheesecake was one of the best we've ever had! Will certainly be returning and recommending to friends!
13/04/2011
Visited by Lynn (Miss Zappy) fromTimperely
My many evening visits to the Green Room always prove to be lively with excellent live music & atmosphere 2nd to none in a quirky, historic corner of Altrincham. I love to dance & the Green Room is definitely the place to dance to some very 'of the moment' & classic legendary music. It has a broad age range too, which makes it always an interesting place to be. It's also a great venue for meeting up for a business meeting, being a regular there on Tuesday mornings with Busy Bees Women in Business Network Group; we are always well looked after with coffees/teas & biscuits with fresh linen cloths on our tables. Bless John. Good luck guys, I'll continue to spread the word! Really looking forward to trying out the new food menu & being the first into the new/bigger Green Room very soon.
24/01/2011
Visited by Dylan, Manchester
Yet again, a great night in the Green Room on Friday night - great band and great beer!
24/01/2011
Visited by Morven from Hale
Visited The Green Room on Saturday evening and what a cool bar! We had such a good evening, has to be one of the best bars in Alty, we will definitely be returning!
07/10/2010
Visited by Lisa from Timperley
I had my 30th birthday party at the Green Room in September 2010. We had the live band playing and also music streamed through an IPOD. The staff were so friendly, the band was great, the atmosphere was really lively, the location is beautiful, with outdoor area available. The Green Room has a great mix of class and being down to earth. The decor is funky too. Everyone who came to my party, young and old, commented on how great the venue and the band were. I think they were really surprised at how well I had chosen!!! Plus the management made it a really pleasant experience booking everything. They were there for me when I needed to ask questions and make arrangements. Can't fault this venue in any respect.
28/06/2010
Visited by Dylan
The new Green Room is fantastic! Much more cosy, nicer character and the same great welcome we always receive! They also had live music, and with the outdoor seating in the evening sun, I felt like I was on holiday! The best bar in Alty, by a country mile!
14/04/2010
Visited by Ilaina, Rullion Computer Personnel
We held our corporate party here last Thursday and all I can say, is that everything was absolutely amazing. We had a live band for entertainment who really got the party going, they did everything to accommodate people's request and even allowed a couple of our own staff to have a go. The food was superb, we had a tapas style menu which was just mouthwatering. Both the band and the food were recommended by the owner, and his recommendation was spot on. When I first made the booking I thought it would be a too small for 45, but I was wrong it was perfect there was plenty of room and it gave a very intimate and friendly feel. The staff were fantastic, they were very friendly and helpful which contributed to the great atmosphere. There is nothing you can fault about this venue. We have had a lot of parties and by far (and all our employees agree), this was the best.... Thank you The Green Room and we look forward to seeing you again soon.
05/03/2010
Visited by Anna from Sale
I had my 30th Birthday here. IT COULD NOT HAVE BEEN BETTER!. Bar is great value, I gave a deposit to the bar but received this back at the end of the night as the bar made enough money. All in all, I had private use of one of the nicest bars in Altrincham, from 5pm until 2pm with amazing service from the bar staff which actually cost me nothing! The bar owner was happy for me to decorate the bar and put up balloons and banners etc and all staff went out of their way to ensure I had a great time and birthday. I will celebrate all occasions in this bar in future...it is amazing!!! I used my own play list on my ipod for music and we danced until 2am. The resident singer came into the bar to say hi and ended up singing for us – he was great too! All in all this place is amazing! Will definitely be back! Thanks everyone at the Green Room for making my 30th Birthday so much fun!!!
11/02/2010
Visited by Rowan, Manchester
The Green Room is a quality bar that is gaining an excellent reputation for live music. The Open mic every Tuesday is attracting some really good acts and from Thursday to the early hours of Sunday morning loads of live music, dancing and good times had by all!
03/12/2009
Visited by Bev
great night be coming back again deffo!
16/11/2009
Visited by Mrs Ohri
We had a wonderful night at The Green Room! Fantastic live music that had us all up dancing. We'll be back soon!
07/09/2009
Visited by Beth Hart and Manchester
Very chilled out bar. Good music and a very relaxing atmosphere. Always a singer on every friday and i have always had a good night. Nice new wines and cold beers. Also the service is outstanding. All the staff are very friendly.
13/03/2009
Visited by Chris Booth
Marvellous bar, been several times and always enjoyed the experience. Very relaxing, good wines and music and will definitely be having my birthday party here!!
Staff are lovely and very welcoming, looking forward to next visit. Thank you.
01/03/2009
Visited by Chris Hart
Welcoming and relaxing in a unique setting. A great night out. Thanks
01/03/2009
Visited by Jamie Champkin
Great bar. Very relaxing and welcoming with reasonable prices. Thanks for a pleasant evening.
23/02/2009
Visited by DJM
Cool new bar in Altrincham - nice spot in Goose Green, the staff are very friendly, good music and beer - what more could you want?!
21/02/2009
Visited by MAH
Great location, friendly and helpful staff, marvelous wine and beer, very relaxed atmosphere and music, a must visit location!
21/02/2009
Visited by PK
Really good atmosphere in here with some great tunes, welcoming staff and cold beer!
Good place to go and unwind after a hard week.
All reviews will be passed onto the business reviewed but some reviews may not be published for legal reasons. View disclaimer -
Click here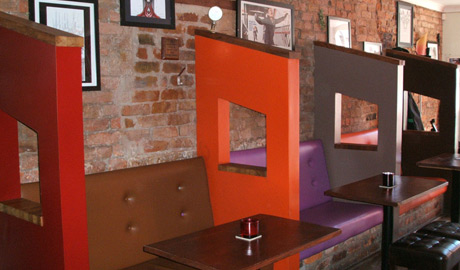 10 Goose Green
Altrincham, Cheshire
WA14 1DW