| | | |
| --- | --- | --- |
| | | |
Home > Restaurants > Yara > Recommendations
Reader Recommendations for
Share your experince of dining out in . Simply search for a restaurant you would like to review and use the links.
Change region:
Exactly
9
29/07/2012
Visited by manchester
one of the best restaurants i have ever been to. Customer service was excellent, very attentive staff, and excellent choice of delicious tasty food including vegetarian and meat dishes. i will definitely be going back for a good night out.
27/05/2012
Visited by ali
i was blown away with the fantasic level of service, the food was excellent and the overall atmosphere on the night was amazing
04/04/2012
Visited by Chris - Marple
Lovely meal, extensive menu, busy but very good service - will definitely go back.
02/04/2012
Visited by Matt
Visited 29.March 2012 and we were blown away. My girlfriend couldn't get over how good the customer service was. They look after you the minute you walk through the door. Amazing customer service. The meal was absolutely fantastic. We had Babaganoush and Breaded Prawns for starter and as main we had Makloubeh and mixed Kebab with beautiful salad. The food was amazing. I'm a fussy eater so hard to please but there was alot on the menu i could eat.The whole atmosphere of the restaurant is vibrant and buzzing. Would definitely recommend it to anyone.
01/04/2012
Visited by Stella
First visit to this restaurant on recommendation. Very busy on a Saturday night but the food was excellent, service with a smile, could not fault it. Also as other reviewers have mentioned you can bring your own wine (there is a corkage charge). Give it a go.
30/03/2012
Visited by Kat Ross Didsbury
Amazing food, great customer service.
Will definitely go there again.
19/03/2012
Visited by Daniel
Absolutely fantastic, really tasty food, great service throughout. Loved it.
22/02/2012
Visited by Sally, Wilmslow
I have eaten in this fabulous restaurant 3 times this month - Excellent delicious food, great service and they never rush you, which I really like. B.Y.O. is an added bonus.
08/01/2012
Visited by michelle manchester
i would definitely recommend this restaurant as the food was amazing and excellent customer service, staff were very attentive and friendly and plus i could bring my own wine
All reviews will be passed onto the business reviewed but some reviews may not be published for legal reasons. View disclaimer -
Click here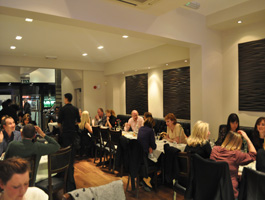 29 London Road
Alderley Edge, Cheshire
SK9 7JT
0871 978 4237