Home > Restaurants > Bellavista > Recommendations
Reader Recommendations for
Share your experince of dining out in . Simply search for a restaurant you would like to review and use the links.
Change region:
Exactly
3
11/01/2012
Visited by rishworth halifax
christmas day with family perfect!!! My steak was just how I like and the atmosphere was warm and enjoyable.
06/09/2008
Visited by d l kniveton/ droylsden
Having been many times for meals at the upstairs Pizzaria we decided to share a meeting and meal with friends from out of area at the restaurant. This had the same "Buzz" and atmosphere of the first floor and one of the best lunches that we have had at a very acceptable price.
11/03/2008
Visited by Joanne
Fantastic best steak iv`e ever had!!!!!
All reviews will be passed onto the business reviewed but some reviews may not be published for legal reasons. View disclaimer -
Click here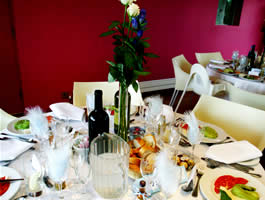 Wildhouse Lane
Milnrow, Nr Rochdale
OL16 3JW
01706 342479