| | | |
| --- | --- | --- |
| | | |
Home > Restaurants > Spice Lounge > Recommendations
Reader Recommendations for
Share your experince of dining out in . Simply search for a restaurant you would like to review and use the links.
Change region:
Exactly
43
31/08/2013
Visited by Mrs Salisbury, Risley
Excellent Food, Friendly Staff and a great atmosphere every time we visit
25/06/2013
Visited by Neil from Culcheth
Had my second takeaway from here and all I can say is wow! We've tried many Indian takeaways but this place is amazing. Full of flavour and generous portions. Highly recommended 5 stars
16/06/2013
Visited by Bernadette, Leigh
We recently had a party of 29 people dining in the restaurant. The service provided by all the staff was excellent. They were very attentive and ensured we all got served at the same time. Every single person enjoyed their food and commented on the great staff and dining experience
15/04/2013
Visited by Shaun and Julie
We eat regularly at the Spice Lounge. Both food and service first class. Would definitely recommend.
14/03/2013
Visited by paul & Ann johnson
we have been dining at the Spice Lounge ever since it opened, it is professionally run by Mia and the team and we wouldn't go anywhere else
10/12/2012
Visited by bill burlinson
Surely the Spice lounge has the best staff and finest food anywhere in the North West, have been many times and always been very very satisfied, keep up the standards.
21/05/2012
Visited by Steve - Birchwood
I am a regular to the Spice Lounge and ALWAYS enjoy my meal whether dining on my own or with friends. The staff are always very helpful and attentive to my needs.
22/03/2012
Visited by Geoff Isherwood
Booked for our wedding anniversary by phone and on arrival we were taken to a table for two dressed with celebratory balloon + banner. Service by our waiter Rex was outstanding and the food was delicious and more reasonable than I had anticipated. At the end of the evening we got table fireworks with free cocktails.
All in all a wonderful night and rex i will see you on our birthday in april. thankyou it was a great time.
26/02/2012
Visited by susan o'neill, tyldesley
We were a party of five and it was our first visit to The Spice Lounge and I can only say it was absolutely fabulous. I can't think why I would go anywhere else for a wonderful night out. The food was immense, the atmosphere brilliant and of course the service was spot on - well done and we will definitely be visiting again :)
21/01/2012
Visited by Sam Warrington
We first visited here on boxing day 2011 and have been back a further 3 times since! The food is lovely and the service is spot on! Will be regulars there!
31/12/2011
Visited by Andy Costigan
Had a simply terrific early evening meal on New Years Eve at the Spice Lounge. I never give anyone a 10, but the Culcheth Spice Lounge would definitely get 9.9 !! Excellent service and delicious food - highly recommend it !!!!
14/12/2011
Visited by Claire Waddington, Lowton
Great atmosphere, quick service & good value for money!
26/11/2011
Visited by kirsty, lowton
The Spice Lounge is A* food, service and atmosphere. Would def recommend. 100% better than the other restaurants in the area. Modern, classy, spotlessly clean and always have a quality evening.
11/11/2011
Visited by Karra Cadishead
The butter chicken was really fit! I would come again and again every night to have the butter chicken
24/10/2011
Visited by lee tierney
cannot fault the spice lounge in anyway the service the food the atmosphere all excellent, ive been many times and have been more than satisfied everytime.
27/08/2011
Visited by Chris Norton
3rd time visited restaurant, this time with guests and on a saturday night. Restaurant was busy and expected to wait a little longer for service, drinks, food etc however we were seated quickly and served drinks straight away. The service was excellent as we have seen in the past. Food was great and the bill for 4 inclusive of wines, beers, starters and mains just under £100. In my opinion great value. Hence to say we will be visiting again and again. Thanks to the management and staff
17/04/2011
Visited by sarah wilkinson
Leave the rest experience the best, speechless great service, finger licking food !!!!!!!!!!!
06/12/2010
Visited by Lynne Winter, Leigh
We went to the Spice Lounge for a anniversary celebration on Saturday Night.. We all had a great time, the food was great, service excellent and to top it all off listening to a live singer. Kayley made the night complete by singing a request for us...
Will be returning!!
19/11/2010
Visited by Hilary Tillotson
We came along to a charity night on 15th November 2010 - food was great!
09/11/2010
Visited by Mike, Glazebrook
An excellent restaurant! The staff are efficient and friendly and the food is very reasonably priced.
The menu has lots of old favourites but there are plenty of new dishes to try too.
I can't wait till my next visit!
06/04/2010
Visited by The Mckillops
4/10 Our 1st time at the Spice lounge, fabulous atmosphere, lovely food and great service, will definitely be back, much better than some other Indian restaurants over in Stockton Heath....10/10 thanks for a lovely evening...
08/03/2010
Visited by tony bashford warrington
booked table for two 05032010 8pm..didn't wait long for table considering they were extremely busy! both had three course meal,three bottled beers and two pints the bill was £46! best Indian meal in a long time with fantastic service on a very busy night..would recommend booking to save disappointment..very smart!
16/02/2010
Visited by Lorraine - Sutton Weaver, Frodsham
We enjoyed a fantastic night at the Spice Lounge for my sons 21st Birthday. The table was decorated for his birthday plus my son was given a complimentary birthday drink complete with fab sparkler and Happy Birthday sung to him.
Most importantly the food was excellent; great taste, presentation, size of portion and cost. All in all a great venue with helpful staff in a delightful setting. Will definitely go again and would recommend to others.
31/12/2009
Visited by Viv Leigh Lancs
Our family (party of 15)celebrated my husbands 60th birthday on the 28/12. We had a fabulous time. I had told the staff on booking that it was a birthday party and was delighted by the birthday banners and table decorations. They also had table fireworks and a party cocktail for my husband, when we brought in the birthday cake. Staff were really friendly and food amazing. Will def go there again.
One comment...could jugs of water be provided on the tables. had to ask several times before we eventually got some. Otherwise fab
30/10/2009
Visited by Jo, London
The chef in this restaurant really knows his stuff. I live in London and have a lot of curry houses to choose from. But I can safely say, hand on heart, this place is way ahead of most of the one's you find in places like Southall, Wembley, Ealing etc.
I had a madras and it was perfect. Very tasty flavouring AND heat at just the right level. Which is no mean feet. Many places just spice something so much that all you can taste is chili. Not here though. Our party all had different dishes and all were excellent. They even do a special kids menus that has a selection of curry AND non indian stuff. They also to ice cream for the little ones and the big ones if you like it. It just seems they've taken on board all the things about curry houses that could be done better and have succeeded in my eyes.
Added to this the place is smart, has good space around each table so you don't feel cramped and is modern, bright and clean . All the staff were attentive and worked like trojans!
Really, can't fault the place and I think that's a credit to all who work there.
All reviews will be passed onto the business reviewed but some reviews may not be published for legal reasons. View disclaimer -
Click here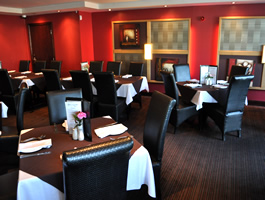 Warrington Road
Culcheth, Warrington
WA3 5SW
01925 767777