Home > Restaurants > Siam Thai & Teppan-Yaki > Recommendations
Reader Recommendations for
Share your experince of dining out in . Simply search for a restaurant you would like to review and use the links.
Change region:
Exactly
3
13/12/2011
Visited by Duncan Chester
Not recommended for vegetarians - all food cooked on shared hotplate. Theatrical cooking - entertaining, food tasted - not bad. Bar upstairs - very nice indeed. Staff - helpful and efficient.
02/08/2010
Visited by JC
Have only tried the Japanese side but it was fantastic, great atmophere, amazing cooking, loved it.
14/07/2010
Visited by Bryan from Northwich
went here with family and had a fantastic evening.
food is top drawer and staff very polite & friendly.
definitely worth a visit.
All reviews will be passed onto the business reviewed but some reviews may not be published for legal reasons. View disclaimer -
Click here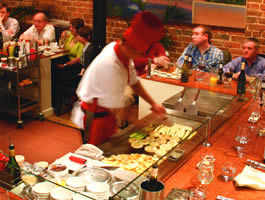 32, City Rd
Chester, Cheshire
CH1 3AE
01244 403222