| | | |
| --- | --- | --- |
| | | |
Home > Restaurants > Circo > Recommendations
Reader Recommendations for
Share your experince of dining out in . Simply search for a restaurant you would like to review and use the links.
Change region:
Exactly
1
03/10/2011
Visited by Harriet Liverpool
Was taken out for dinner and the two of us were put on possibly the largest table going for 2 people, but had great seats to hide in if your company wasn't great! The service was friendly and efficient, and the food was good. To start the prawns and roasted veg were lovely and then I had a salad which you cant really go wrong with. The soup was enjoyable the steak looked like it was a proper bit of meat - not just a fairy portion and I think was enjoyed. It a very different place to eat but makes a change from a standard restaurant. Lovely to look out on the docks as the lights reflected in it too.
All reviews will be passed onto the business reviewed but some reviews may not be published for legal reasons. View disclaimer -
Click here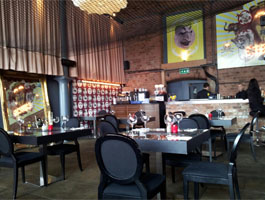 Britannia Pavilion, Albert Dock
Liverpool
L3 4AD
0151 709 0470