| | | |
| --- | --- | --- |
| | | |
Home > Restaurants > Elmas > Recommendations
Reader Recommendations for
Share your experince of dining out in . Simply search for a restaurant you would like to review and use the links.
Change region:
Exactly
15
26/01/2011
Visited by claire, manchester
We went to Elmas last night for my partners birthday, the food was superb, the staff were brilliant and the restaurant was at a very high standard. The manager and staff were very attentive and friendly and made our night amazing. Would highly recommend Elmas to everyone!
29/03/2010
Visited by Sarah, Lymm
Had a lovely meal at Elmas on Saturday evening. Food was very good, I loved my BBQ ribs starter. Some of the dishes were a bit bland but mostly good. Mostly great service even when the restaurant was full. They made a fuss of my mum because it was her birthday and even put a message up on the screen for her. Would like to go back and try some different dishes or visit for breakfast or lunch.
All reviews will be passed onto the business reviewed but some reviews may not be published for legal reasons. View disclaimer -
Click here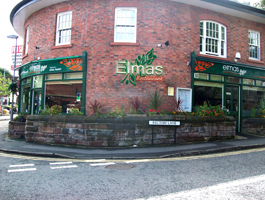 2 Pepper Street
Lymm, Cheshire
WA13 0BJ
01925 756 049