| | | |
| --- | --- | --- |
| | | |
Home > Restaurants > Artichoke Cafe Bar Bistro > Recommendations
Reader Recommendations for
Share your experince of dining out in . Simply search for a restaurant you would like to review and use the links.
Change region:
Exactly
9
25/06/2013
Visited by Dylan, Manchester
Had lunch here on Saturday with family and we all left very satisfied. Across the table we had some salads, sandwiches and light bites. The Freedom lager they had on draught was excellent and will certainly return for their pizza Monday night (think it was 2-4-1).
02/01/2012
Visited by Alistair Cameron - Connah's Quay
Visited The Artichoke several times for 'Sunday Heaven' and also attended a couple of educational parties / school do & graduation do
all have been a superb presentation of HOT excellent food... even better than home
04/12/2011
Visited by Amy, Chester
Artichoke is such a welcome addition to Chester. Lovely place to while away a few hours, fabulous food, exciting range of drinks and lovely atmosphere. The decor is modern and cool but relaxed. It's so good that when it was too full for us to have a table late on Friday evening we were still pleased, for them, as they deserve their success. Artichoke is ace!
03/11/2011
Visited by Jon Gershman - Wirral
What a fantastic addition to the up and coming canal quarter in Chester. Fabulous food, drinks and staff. This has got to be my favourite place to eat, drink and relax in Chester! The chef is one talented guy and keeps you coming back for more with the varying menu based on local produce. Front of house is just as complimentary with a range of drinks to suit anyone. A must try is the Cherry beer(lambic) and the Strawberry Timmermans.
30/09/2011
Visited by Kay Rimmer
This is a fantastic venue. Very friendly staff, fabulous food , cracking range of beers and wines and excellent coffee. They make you feel very welcome and they accommodate children and babies which gives good competition to Harkers.
So pleased Artichoke has opened in such a great location, we visit it a couple of times a week and it has quickly become our favourite cafe/restaurant. Keep up the good work
26/09/2011
Visited by James, Chester
I have visited Artichoke twice now. What a place. I cannot speak highly enought of the attentive service and fantastic food. I had the roast pepper risotto for my first visit which was full of flavour and more than reasonably priced at just under 6 pounds. I then returned with 7 members of my family for Sunday lunch and was extremely impressed with the standard of food. The portions were huge and variety of vedge served appealing, especially the red cabage and mashed carrot. Whilst a venue like the Redhouse in Boughton may possess greater views over the river, there is no contest in the food league, artichoke is streets ahead. Taxi to the canalside please.
11/09/2011
Visited by Lorraine, East Lancashire
Visited on recommendation of the hotel staff. Loved the whole evening's experience. Fantastic food from an extensive menu backed up by warm, friendly and professional service by bar and table staff in a lovely venue. Would highly recommend to all ages and pallets. Will definitely visit again if in Chester.
16/08/2011
Visited by Jen from Chester
I ate here for the first time on Saturday. Excellent service, excellent food, excellent vibe. The place exudes a particularly quirky atmosphere offering Chester something a bit special with homemade bread, terrines and cakes on show - this restaurant celebrates delicious flavours. So fantastic that I was back there Sunday for a delicious Sunday roast. The best thing that's happened to Chester for a long time. Sure to be a success!
12/08/2011
Visited by Roseanne-Chester
I loved Nev's previous bar & his approach & with his experience coupled with Rob's cooking, I'm not alone in already making this my favourite place in Chester. The setting is lovely, its airy, light & summery & it feels warm & welcoming. A nice, vivacious crowd & an adults drinking & eating venue. Great cocktails (Nev keeps a top class bar) & the food is ALWAYS spot on.
All reviews will be passed onto the business reviewed but some reviews may not be published for legal reasons. View disclaimer -
Click here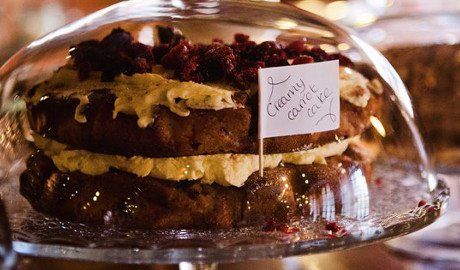 The Steam Mill
Chester, Cheshire
CH3 5AN
01244 329229