| | | |
| --- | --- | --- |
| | | |
Home > Restaurants > Baffito's Bar & Pizzeria > Recommendations
Reader Recommendations for
Share your experince of dining out in . Simply search for a restaurant you would like to review and use the links.
Change region:
Exactly
7
30/07/2013
Visited by Kelly
In last night their is a new chef and the food is fab service was great will definitely be going back mmmmmm
21/01/2013
Visited by Nick
Really good grub and great value. We came on Saturday night and although it was quiet there was a nice atmosphere and lots of staff on. Overall would highly recommend and I'll be returning.
27/11/2012
Visited by ian, warrington
We went last night, it was pretty quiet as it was a Monday night but the service was spot on, the food was really good and the place has been done up really nice. will definitely be going again and would recommend it highly.
29/09/2012
Visited by Warrington
Great food, excellent service, great surroundings. cannot fault.
03/09/2012
Visited by Millymoo
Visited Baffito's last weekend for my niece's 16th birthday. Food was great, relaxed atmosphere, restaurant was spotlessly clean & staff were friendly & attentive.
Highly recommended :)
25/06/2012
Visited by Andy M, Warrington
Great service, great food, try the americano on a garlic base!! Fabulous. Seperate TV area with live sports and free pizza slices at half time. Well, well worth a visit
21/04/2012
Visited by sara , warrington
Went to baffitos last night with family, gorgeous meal, lovely surroundings and the staff were great, excellent service! Would definitely recommend a visit! : )
All reviews will be passed onto the business reviewed but some reviews may not be published for legal reasons. View disclaimer -
Click here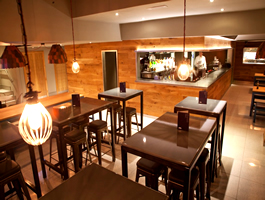 14 Bank Street
Warrington, Cheshire
WA1 2AR
01925 657221