| | | |
| --- | --- | --- |
| | | |
Home > Takeaways > Cheshire Takeaways > Warrington Takeaways > The Cottage
The Cottage
Indian
[show 24 more photos]
Why not enjoy the high quality food you can enjoy in the restaurtant at home?! Look out for our great takeaway deals.
Restaurant description:
Now fully re-open after a stylish refurbishment. Dedicated to authentic Indian food,...
more about this restaurant.
---
Other pages on Onionring:

This venue has a restaurant...find out more

Find the best deals for Hotels in Warrington...click here
Recommendations
Jane, Irlam
(20/09/2013)...As August comp winners, we've just had a wonderful evening thanks to Rofe and his team. Great atmosphere with friendly and attentive but not intrusive staff. Walking into the entrance and bar with its Tudor architecture was a real treat and it blended seamlessly into the modern interior of the......
Email The Cottage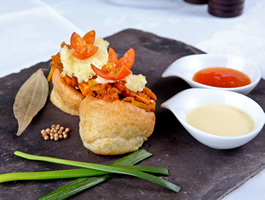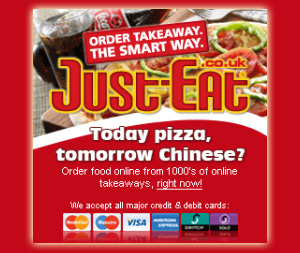 Contact Details
90, Church St
Warrington Cheshire
WA1 2TF

0871 978 4114 / 01925 241888
Facilities






Parking is in a car park
Licensed
No delivery service is available
Opening Hours
| | |
| --- | --- |
| Monday | 5:30 - 11:30 |
| Tuesday | 5:30 - 11:30 |
| Wednesday | 5:30 - 11:30 |
| Thursday | 5:30 - 11:30 |
| Friday | 5:30 - Midnight |
| Saturday | 5:30 - Midnight |
| Sunday | 4:30 - 10:30 |
Events
December
1

Sunday 01 December 2013 to Tuesday 31 December 2013

We know organising the Christmas party can be a bit of a hassle. That's why our party menu is designed to take the stress off you so you can enjoy the night. With our carefully designed 3 course meal party menu at £21.95 per person there's something for everyone to enjoy so no one is disappointed. Our exciting new Christmas 2013 menu is now available for you to download! Bookings are now being taken so book early to avoid disappointment. Please call us if you have special requirements or you...

<

CLICK HERE FOR MORE INFORMATION AND TO BOOK

>

December
13

Friday 13 December 2013

On the 13th of December 2013 we have a exciting night of Arabian entertainment accompanied with shisha, and a stunning 3 course meal. This event is limited and is priced at £25 per person so book early and avoid disappointment.

<CLICK HERE FOR MORE INFORMATION AND TO BOOK>




Recommendations
Jane, Irlam
5





As August comp winners, we've just had a wonderful evening thanks to Rofe and his team. Great atmosphere with friendly and attentive but not intrusive staff. Walking into the entrance and bar with its Tudor architecture was a real treat and it blended seamlessly into the modern interior of the restaurant area. The food was fantastic. We were only halfway through the starters (Grilled fish and tandoori lamb chops) before we'd decided we were coming back with friends. The mains of Moghal lamb and Chicken Bazigaar didn't disappoint either. All in all, we just couldn't fault it.
Sian Bagillt





I have just come home from having a fabulous meal at The Cottage this evening. It was my first visit and it certainly won't be my last, the restaurant is very tastefully decorated, the service was very good and the food was to die for, one of the best Indians I have sampled.
Fiona Warrington





I have eaten here several times in the last 12 months and it has always been an excellent service, very polite and welcoming, food has always been excellent with great choice. I opted for the five course takeaway for valentines day which was delivered free. It was excellent, just as good as in the resteraunt. I would recommend this too anyone and have done and they have all enjoyed their experience. Best indian I have been to in years that is consistently perfect!
Sam, Warrington





Had a fabulous meal this evening at the Cottage. Food was of an excellent standard and the service, decor & cleanliness were second to none. Will definitely return soon.
Tracey Warrington
I love this place food is always great never had a bad meal and the service is great too. Looking forward to my next visit soon.
Peter from Warrington





This place is the absolute best Indian I have ever experienced. My friends often join us for a meal out here or we sometimes get a takeaway to enjoy at home. Either way the food is exceptional!
linda gt sankey





staff really nice,food excellent.looking forward to going again soon
peter from wigan





amazing indian. the food was the best i have ever had (and i have been to a lot of indians.
Nina, Warrington





Really lovely restaurant. We had a very friendly warm welcome, the food was delicious. We would definitely return.
Highly recommended
Matty st helens





Been the cottage quite a few times, food is perfect every-time
Would recommend this to any one,best Indian by far
sandy from warrington





Excellent! Can't fault it at all, really gorgeous food, beautiful surroundings and the staff are lovely and friendly. Good portions and the prices are right. This is defo the place to go for the best curry in Warrington.
Gill,Warington





My friend and I ate here last night,love the new decor food as ever fabulous! Service very good.Love this place
sal warrington





I haven't been to the Cottage for a few months, but I thought I was in a different restaurant as we walked through the door, all I could say was WOW !!!!!
My guest who were from out of town were really impress they thought we were in a high end London restaurant. The service was spot on and food was sublime. We had a fantastic night and will be back again to show off the curry jewel of Warrington to some friends
wayne hill warrington





Fantastic!! Went there on Saturday as part of our works Xmas night out.Food was brilliant,the Xmas party menu for £22.95 was really good value.Love the place ,will be going back soon.
The gannons warrington





love love love the food at the cottage.our family favorite.not many good restaurants in warrington but the cottage never disappoints.takeaways are great too
Jay Warrington





Seven members of Cheshire Curry Club and Trafford Curry Club visited The Cottage at 8pm on Monday 29th June 2009. We had heard good reports and decided to try it for ourselves. The first thing that impressed us was the restaurant itself. It is a grade 2 listed building dating back to the 15th Century. Oliver Cromwell stayed here in 1648. The building itself is very deceptive with its wattle and daub exterior because once you open the door and go inside it is literally like entering the Tardis. The inside is tastefully decorated to a very high standard and the decor exudes quality and class. We decided to opt for their £15.95 three course special and we were not disappointed. We started off the evening with poppadoms followed by five tandoori mixed starters ( delicious ), onion Bhajees and chicken shashlick. For our mains we ordered a Chefs special Chicken Kushbu with red fried rice which was recommended by our very knowledgeable and helpful waiter. The Kushbu was quite hot but combined with the rice was mouth wateringly pleasant. We also ordered one lamb Jalfreizi, one chicken Karahi, one lamb Karahi, Monkfish Biraan, one Tandoori Chicken Tikka and one Chicken Makhani. We also had Garlic and Peshwari Nan bread. Also included in the deal were 3 bottles of wine. We rounded off the evening with ice cream dessert and coffees. For the seven of us the total bill came to £130 which is less than £20 per head for an absolute feast. We thoroughly enjoyed the whole Cottage experience and are looking forward to visiting this establishment again in the not too distant!
Nikki Brooks - Stockport




An extensive menu to choose from. The food was top quality and very tasty with excellent, friendly service from the staff.I won a meal for 2 here through an onionring prize draw.We will definitely be going back and taking others with us!!Thankyou
Tom Parker, warrington





Absolutly great food and great atmosphere, i got engaged there last night and it was the best place to do it, the staff are really friendly and inviting, i will be going back.
mrs hartley warrington





Me and my family go to the cottage alot, the food is great and the service is excellent.
Tony Warrington





Went here with a party of 10 with various age ranges from two to eighty three.
Four of us opted for the Indian set menu and the others traditional.
The service and food was fantastic and we had a really enjoyable afternoon.
So much so that we decided we will be back next year.
Thanks to all the staff for there hard work on the day ensuring we had a good experience.
wayne hill





Quite simply the best curry I have ever had!We went on a works do last night and enjoyed everything that The Cottage has to offer.Excellent food and service in great surroundings.This place has got everything right!The food is high end cuisine presented beautifully and justifies the slightly higher than average prices.We will return.
runcorn
One of the best curries in the North West, always had excellent service and will return time and time again. Great for take away also!!
Tony Warrington





Eight of us went on Saturday 16th August 2008 and had a very enjoyable evening the food,service and astmosphere was excellent.
A really great place to go,I also had some takeaway food (uncooked)which was for the barbi and this also was superb
Widnes





I went to the Cottage a few weeks ago. I have never liked Indian food. But Wow, this place was truly superb. By Far the best indian restaurant I have ever been to
Andrew, Warrington





Simply the best indian Ive been too - in fact probably the best restaurant of any type in Warrington. Its in a really nice old building too with a very atmospheric bar area. Slightly more expensive than your avergae curry house but well worth it.
Bob V





having read the reviews a group of 5 went to the Cottage last night. We were not dissapointed, the service, food and atmosphere was the best experienced in any Indian restaurant anywhere. One complaint, it is the only restaurant visited which did not supply tap water when requested. It was not that we did not order other drinks but we all like water with the meal and object to paying for water.
Andy, Warrington





Simply the best indian restaurant Ive been too, the bar area is really atmospheric too. A great experience.
Warrington





Have been a few times now. The bar / waiting area is a bit cramped when busy but it is a 15th century house. When the bar's not busy it has a nice relaxed 'gentleman's club' feel. The restaurant however has an open, modern feel. Clean and contemporary with a welcoming atmosphere. The staff are first class.
The food is not only the best indian food, but actually some of the best food of any kind you can find in the North West.
Rachel, Warrington





The Cottage is the best indian around, and I don't even like curry! My boyfriend loves it though and the other dishes are gorgeous, and the takeaway comes in a posh bag!
David G Warrington





What an amazing place the food is the best I have tried, we used to go to Manchester a lot for a great curry but since visiting here we do not bother because the food, service and atmosphere is a different class. The take out is just as good!
janet Warrington
Fantastic food, excellent service and an all round top place to eat. I would recommend The Cottage to anyone and everyone. Get yourself down there now for some top quality curry.
hayley warrington





Fantastic food. My family and I visit here on a regular basis and we are never dissapointed with the level of service or the food.
Gill,Warrington





My husband and I came here for my birthday been a few times as good as ever.Staff attentive and polite and food excellent.Keep it up
Neil, Warrington





The Cottage is superb. The staff are friendly and very helpful, the decor is contemporary and very different from your average indian restaurant, the prices are reasonable and the food is excellent. I have eaten there on at least 7 or 8 occasions and wholeheartedly recommend to anyone.
Tom, Warrington





Originally from Brum, I have been lucky enough to sample some of the finest Indian food in the Second City. I've also sampled the Indian food in Rusholme (nearly as good as Brum), but this takes the cake.
A wide and varied choice on the menu, excellent service and delightful decor make The Cottage one of my favourite places to eat. Admittedly, it is not the cheapest, but you don't mind paying for this quality.
And they do take-away!!
Dani Manchester





Went to The Cottage last night for the first time. A bit sceptical before i went, never having had a better than average meal in Warrington. The meal was superb. Choices were excellent, combining Indian flavours with a modern menu. And the flavours were so good. Service exceeded expectation, time after time. But this is not a typical Indian restaurant, hence prices are more akin to a Manchester City Centre restaurant rather than Rusholme, expect to pay £25 a head. And here, you get what you pay for.
Tom Laity Southam





Made very welcome by the staff, who took time to explain some of the unusual dishes on the menu.
I settled for the Lamb Kushbu,(hope I spelled that right),boiled rice and a salad which had sweet chilli and lemon drizzle over it.Jalfrezzi sauce was offered on the side.
Quality food at a reasonable price.
Jon Warrington




- went to Cottage 2 weeks ago - food and service superb. Slightly expensive but well worth it
Paul, Manchester




I've been to The Cottage a couple of times on works nights out. The food, service and decor are all excellent.
Alan - Warrington





Not being a curry expert, I have to say I had a great meal, the food and the service were top notch, I would not hesitate to go there again, and they do take away as an added bonus.....
Julie, Warrington





By far the best Indian restaurant I have visited. The quality of the food was excellent, and efficiently served. Very welcoming and friendly staff. What a unique building, with so much character, yet very modern. Will definitely visit again!!
The_Wolfman
I have eaten here on a number of occasions and never been disappointed with either the service or the food.
Excellent, the best contemporary indian in the area.
rachel warrington
hiya, foods great, with a brillient atmousphere and friendly staff.
Tracy, Warrington
Heard lots of good things about The Cottage and decided to spend a late Valentines there. I'm not an expert on Indian food but what I do know is good food/service/choice, this place had it all. I was really taken back as they made the night really special for us without going OTT. This will now always be a special place for me. The building is amazing inside too. Mind you it may of been the company that made it that extra bit special.
Terry, London, Q.P.R
Hi, for many years I have eaten Indian food, I even eat & drink in a Indian club back in London. The building was amazing, the service 2nd to none. As<<<(he's name) the waiter was a character, top bloke. The variety on the menu was Excellent & we had a good meal that you could actually tatse the spices & herbs which was a pleasent surprise. And made it speacial for us (with just so nice quite things that ment so much to us) because we couldent spend valintines together, we will definitly go back again...many thanx
Fiona, Warrington
Would recommend to everyone as a fantastic all-rounder. Food, atmosphere, service, price are all first class.
Warrington
Even with the Xmas rush, The Cottage delivers excellent service and food.It was packed and we had our own private table upstairs as so busy,this was great as there was a group of us.Well done!!!
Howard Warrington
We have eaten at the cottage several times now & always find the food excellent & the surroundings great. Along with Sindh restaurant in Woolston these are the best Indian restaurants outside of Rusholme.
Howard.

Lisa Grappenhall
We have eaten at the cottage on a good number of occasions now and have found the food and the service to be excellent every time.
Also set in very pleasant surroundings.
Food 9/10 service 10/10
Gill Humphreys
My friend and I visited The Cottage,her first time,yesterday and my raves about the service and cuisine did not let me down,she was most impressed.She travelled from Liverpool and thoroughly enjoyed the whole experience.Dont let us down at Christmas!!!
jackson altrincham
been to this restaurant the decor was good ,I think the food was average,but good for change away from altrincham, staff was helpful
Richard Will from Lymm
The cottage indian restaurant is by far the best that I've sampled in this area. 3 popadoms (with 4 dips), pilau rice, chicken tikka chilli masala and a peshwari naan cost me £10.10. This is great value and the food was pure perfection!
Neil Pilling, Warrington
I have had the pleasure of dining at The Cottage on several occasions. Previously, not a huge fan of Indian cuisine, I was pleasantly surprised by the variety and quality in the extensive menu. The atmosphere was excellent and the decor is modern. The service was prompt and the waiting staff couldn't have been more helpful.
Updates
Is this information about correct?
Please tell us about any omissions or mistakes on this page...
click here to submit an update.
If you own or run this venue and would like to get more customers from onionring...
click here