Pesto Widnes celebrates fifth anniversary milestone
Pesto Widnes is celebrating a significant milestone this May as it celebrates its fifth anniversary.
A firm family favourite, the Italian restaurant has welcomed a staggering 250,780 diners since opening its doors on Birchfield Road in May 2012. Customers visiting the restaurant have devoured a whopping 1,612,150 dishes, 1,095,000 pints of beer and over 620,500 glasses of wine in the last five years.
Topping the list of favourite dishes is the Coscia di pollo imbottita - chicken stuffed with Parma ham, sage, spinach and mozzarella,with over 6,582 diners ordering the dish on a weekly basis. This is closely followed by the Patateall' origano -potato sautéed with fresh garlic and oregano -with over 5,575 sold each week.
The cocktail menu has also proven popular with customers, with over 438,000 drinks shaken and stirred in five years. Cocktails Pornstar Martini and LeccaLecca top the list as the most ordered mixtures.
Speaking of the restaurant's anniversary, General Manager at Pesto Widnes, Gizela Kalkucka said:
Were really pleased to be celebrating this major milestone at Pesto Widnes. When we opened the doors back in May 2012 it was hard to imagine how the next five years might look. That moment feels like only yesterday. Were thrilled to have built such a loyal following here and we are looking forward to another exciting year ahead.
-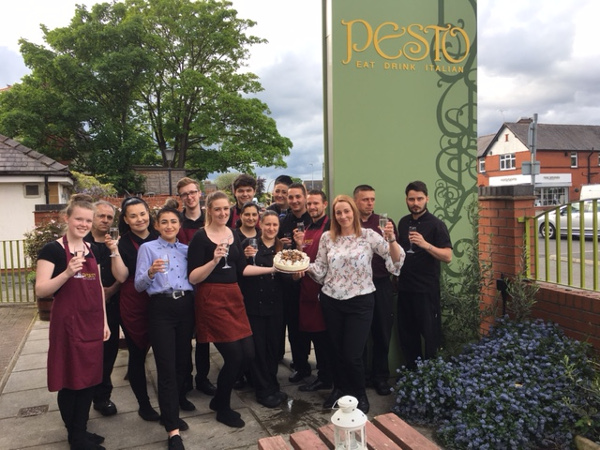 Situated in stunning Cheshire, Pesto Widnes combines a traditional Italian menu with a selection of real ales in a traditional pub environment.
Renowned for Italian small plates or -˜piatinni, Pesto boasts over 40 dishes full of big flavours. Giving a true taste of little Italy, dishes include Pizzetta picante con salsiccia with spicy Italian sausage and Penne con pollo al dragoncello with chicken breast, fresh tarragon, mascarpone and pecorino cheese.
Offering a main, day time and afternoon tea menu, the restaurant is an ideal location for all occasions.
Further information can be found online at
www.pestorestaurants.co.uk
.
---
Posted: Wednesday 31st May 2017
ID: 2887 - 1884