Bistrot Pierre Recipe: Asperges Gribiche
This month we're sharing the recipe from Bistrot Pierre; the Asperges gribiche.
Enjoy seasonal asparagus with ham hock and sauce gribiche of eggs, capers, cornichons and herbs. If youd prefer a vegetarian option, leave out the ham hock.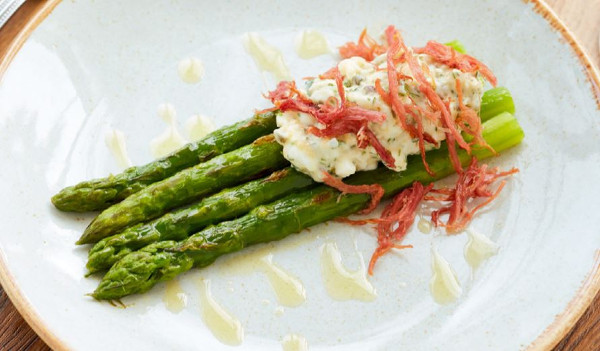 Preparation time: 15 minutes
Cooking time: 10 minutes
Serves: 4
Ingredients:
280g Asparagus
2g Sea Salt
40ml Extra virgin olive oil
1g Cracked black pepper
600ml Mayonnaise
480g Gherkins
80g Flat parsley
240g Capers in brine
80g Dijon mustard
4 Eggs
1 Ham hock
Selection or aromatics (bay leaf, clove, star anise, peppercorn)
Mise en Pace:
1. Bring the ham hock to a boil in cold water and aromatics. Simmer for 2 hours until meat is tender.
2. Allow the meat to cool slightly and shred ham by hand removing all bones.
3. Hard boil the eggs and allow to cool.
4. Finely chop the eggs into small pieces.
5. Chop gherkins into a small dice.
6. Roughly chop capers and herbs individually.
7. Mix all ingredients together, except the ham and add the mayonnaise and Dijon mustard.
8. Remove woody stems of asparagus and peel away any stringy edges.
Method:
1. Blanch the asparagus for 1 to 2 minutes and place in ice cool water.
2. Place the asparagus and shredded ham onto a tray, season lightly with salt, pepper and olive oil and place under the grill to warm through.
3. Once hot and lightly coloured on top, transfer onto a plate.
4. Neatly spoon the gribiche on top of the base of the asparagus and top with crispy ham.
5. Finish with a drizzle of olive oil.
---
Posted: Tuesday 6th June 2017
ID: 11417 - 1891