Bistrot Pierre August recipe: loup de mer
This month we're sharing the recipe from Bistrot Pierre; Loup De Mer.
Try making this much-loved sea bass dish sauteed with green beans, sun-blushed tomatoes, basil and a caper and herb dressing - lovely and light for August.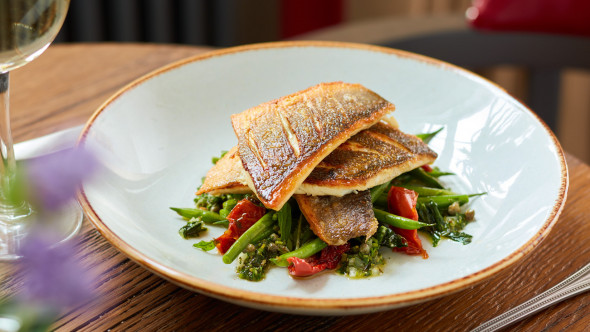 Preparation time: 20 minutes
Cooking time: 10 minutes
Serves: 4
Ingredients:
100g Gremolata with capers*
4 Sea bass fillets
240g Extra fine green beans
200g Sun-dried tomatoes
20g Basil
1g Sea salt
1g Cracked black pepper
Mise en Pace:
1. Remove any pin bones and scales from the sea bass fillets
2. Remove tops from green beans and boil for 1 to 2 minutes and refresh in iced water. Drain once cooled.
Method:
1. Lightly oil the sea bass and season with salt. Heat up a frying pan with some vegetable oil. Place sea bass skin side down and cook until the skin goes crispy, then turn and finish cooking on the other side.
2. Place the sun-dried tomatoes into a pan with the oil they were marinated in - place on a medium heat to warm.
3. Add the green beans and toss together for approximately 1 minute until warm.
4. Add the torn basil leaves and season to taste with salt and freshly milled black pepper.
5. Neatly arrange the beans and tomatoes into the middle of the plate.
6. Place the crispy sea bass on top and drizzle the caper gremolata around the plate.
*-‰Gremolata Ingredients:
40g Lemon zest
320ml Extra virgin olive oil
20g Garlic, peeled
60ml Lemon juice
20g Flat parsley
4g Sea salt
20g Capers
Method:
1. Grate the garlic
2. Place the freshly grated garlic, lemon zest and fresh lemon juice into a mixing bowl with the finely chopped parsley, olive oil and salt.
3. Drain capers from brine and add to gremolata.
4. Mix thoroughly
---
Posted: Wednesday 2nd August 2017
ID: 11417 - 1908