So many offerings at Slim's Pork Chop Express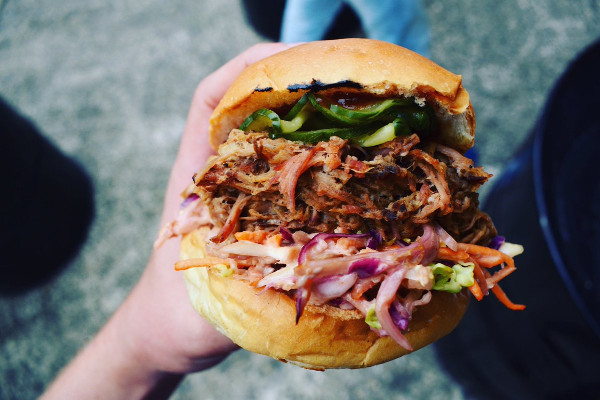 Located on Liverpool's bustling Seel Street, Slim's Pork Chop Express offers some of the city's best-smoked BBQ dishes with a nod to the celebrated China Town, alongside a fun and creative cocktail list. The restaurant, which takes inspiration from the 1896 cult classic film 'Big Trouble in Little China', prides itself on its slow-smoked meats and secret sauces, resulting in an extensive menu that combines two of the UK's favourite gastronomies, barbeque and Chinese, for the ultimate feasting experience.
A hot-pink neon 'XXX' sign (hinting to the venue's previous incarnation) marks the spot where the restaurant is located just a stone's throw from China Town in the heart of Liverpool's foodie hub. Kitsch 1970s cult film posters adorn the exposed brick walls, with Kung Fu memorabilia continuing the theme throughout the restaurant. The fun interiors mirror the exciting menu, which offers everything from Chinese Dim Sum and a Lo Pan Banquet, to Sunday roasts with a twist, ensuring even the largest of appetites are sated. With many of the dishes served up on canteen style trays, the dining concept is relaxed and encourages sharing between groups of friends and families.
Examples from the food menus include:
USDA Brisket (£6.50/11.00) 12-15 hours smoked and finished in a sticky glaze on the BBQ choose from Texas BBW, Spicy Cola & Franklin's hat
The Pork Chop Express (£11) BBQ pulled pork, grilled sausage, smoked crispy bacon, pickles, ketchup & mustard
Chicken & Waffles (£9.50) Harlem classic from the 1900s, choose from sweet, savoury or hot
Lo Pan Fries (£7.50) Deep fried salt and pepper siu mai, curry sauce, spring onions, chilli, topped with homemade char sui and sriracha
---
Posted: Monday 7th August 2017
ID: 11338 - 1911