THE BIG MATT
Here at Hawksmoor we have our very own Michelin man. He's been the Head Chef of not one but two restaurants with 3 Michelin stars, and the kitchens he's been a part of have clocked up 9 stars in total. Needless to say, Matt Brown is a culinary genius.
He also has a less serious side. Hence this three star tribute to a childhood favourite. Originally created for our Make America Great Again July 4th party at Spitalfields Bar in London, the reaction was so spectacular we're rolling it out to all of the other restaurants.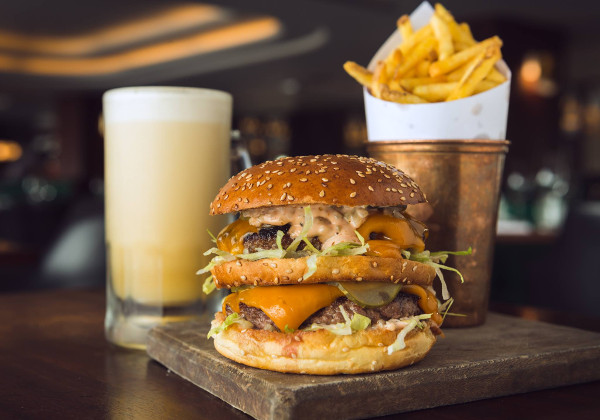 Two dry-aged British beef patties with Sparkenhoe Red Leicester, shredded iceberg, house pickles and Hawksmoor special sauce, all in a sesame seed bun. With beef dripping fries and a Shaky Pete's Ginger Brew, the all-in Big Matt's Meal deal is £20.
Available at Hawksmoor Manchester (restaurant and bar) from 1200-1500/1700-1830 Monday–Saturday until the end of September.
---
Posted: Wednesday 16th August 2017
ID: 11170 - 1915