Bistrot Pierre October recipe: Moules Marinieres
This month we're sharing a classic recipe from Bistrot Pierre; Moules Marinieres.
Rope-grown mussels steamed with onions, parsley, white wine and a splash of cream. This simple, but tasteful French dish, has a great combination of flavours and is sure to impress any guest. Our quick and easy recipe makes it the perfect dish for any dinner party, or gathering of friends.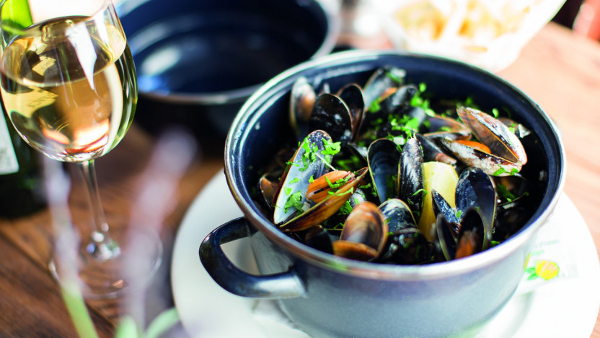 Preparation time: 10 minutes
Cooking time: 13 minutes
Serves: 4 as a main course
Ingredients:
4kg Fresh mussels
500ml Whipping cream
100g Butter
300g Onions
500ml Medium dry white wine
60g Flat-leaf parsley
2 Lemons
2g Bay leaf
10g Thyme
Mise en Pace:
1. Chop the onions and parsley.
2. Cut the lemon into wedges and remove pips.
3. Sort through mussels, discard the ones that are open, or any that are damaged (they have perished and are not safe to eat).
Method:
1. Clean mussels and place in heavy based pot.
2. Add onions, butter, bay leaves, thyme and white wine.
3. Cover with lid and steam on stove for 1 to 2 minutes until all the mussels are open.
4. Add cream and lemon.
5. Shake well.
6. Sprinkle with chopped parsley and serve in hot bowls.
---
Posted: Tuesday 3rd October 2017
ID: 11417 - 1939