The Coach House Inn Scoops Up Best Accommodation At The Customer Service Awards
The Coach House Inn on Northgate Street, Chester have just been awarded the "Best Accommodation" accolade at Chester BID's "customer service awards" 2017.
The four-star restaurant has 8 luxurious en-suite rooms upstairs, which were only recently refurbished in March this year. The enviable city centre location, delicious home cooked menu and stunning interior décor, may be what initially attracts new customers, but it seems it's their customer service and welcoming atmosphere, that keeps them returning year on year.
The shortlist for the awards was voted on by the public, with The Coach House Inn facing high competition against Oddfellows and the critically acclaimed Grosvenor hotel. The Coach House Inn were then selected as winners after judges scoped out all three in secret shopper style.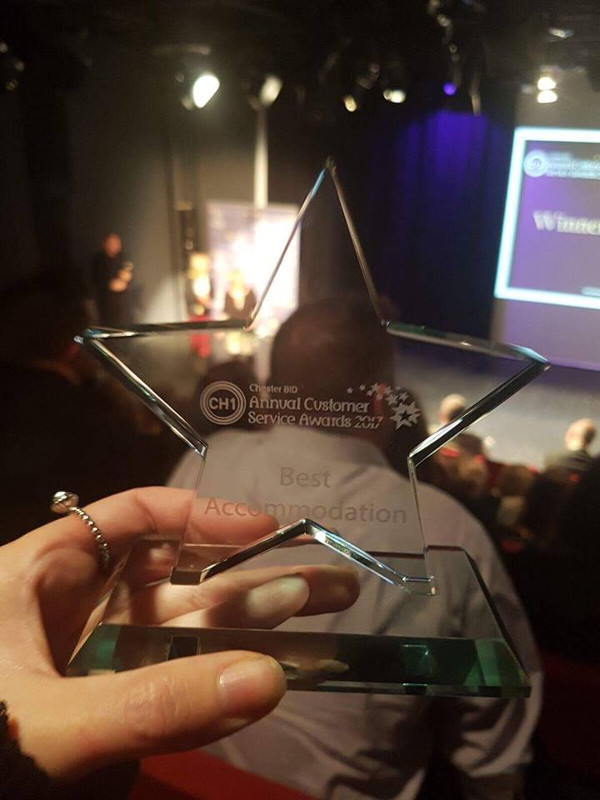 The award came as an additional confidence boost for the Coach House Inn whom have also been shortlisted this week for Marketing Cheshire's "small hotel of the year" award, of which winners will be announced on the 23rd November. General Manager Elisher Dean, who graciously accepted the award, had this to say: "
I can't express how much awards like this mean to an independently run business like ours. The fact that it's our customers who have been voting in this case, makes it just that little bit more special as well. I'd just like to say a huge thank you to everyone who helped put us forward for this and who has shown us their support.
"
---
Posted: Thursday 19th October 2017
ID: 4047 - 1943