Bringing hot dogs and steins to Seel Street
Located in the hub of Liverpool's nightlife district, Salt Dog Slims brings a taste of America to the hustle and bustle of Seel Street, offering a variety of creative cocktails, delicious New York inspired hotdogs, and German style steins, making it one of the city's most popular late-­-night hangouts.
Upon entering guests are met with dark wooden interiors with a touch of experimental interior design, including a vintage style bathtub, which has been refashioned into a table. Exposed brick walls, unvarnished floors and leather booth styled seating contribute to the relaxed atmosphere, and cocktail lovers can perch on a stool at the bar to chat through the menu with one of the knowledgeable bartenders.
The food menu here is simple yet effective, offering a menu that features pork, bacon wrapped and classic hotdogs with a variety of unusual and traditional toppings. Offering classic combinations like chilli cheese, pickles and pulled pork alongside more adventurous toppings, such as char sui, -˜Big Mac sauce or peanut butter and jelly, the hotdogs are served on soft brioche buns, which have been steamed in house to bring out the sweet and fluffy elements of the bread.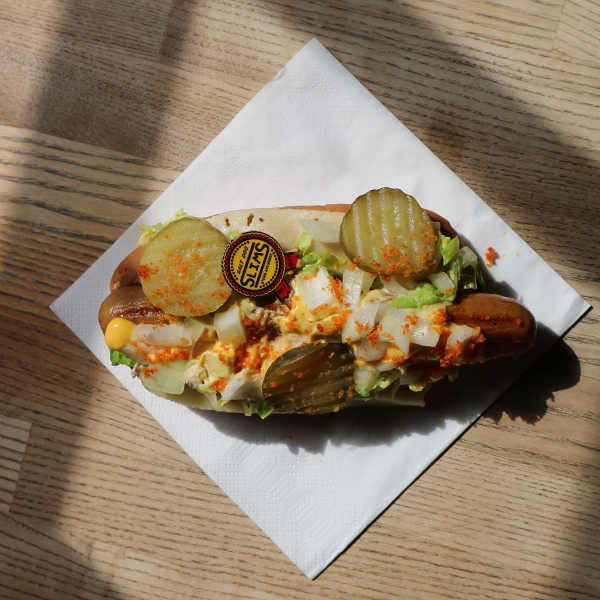 Examples of the food menu include:
Le Big Mac (£6.50) - Pork Dog, White Onion, Lettuce, Cheese Slices, Cheese Sauce, Big Mac Sauce, Chopped Pickle, Meat Crumb

Lo Pan (£7.00) - Pork Dog, Sui Mai, Char Sui Sauce, Salt & Pepper, Fresh Chilli, Spring Onion

Cheese Eating Surrender Monkey (£5.00) - Cheese Sauce, American Cheese Slices, Jalepeno and Pickle, Salt & Pepper, Sriracha



One of six venues from restaurant and bar group, Graffiti Spirits Group, Salt Dog Slims has just as much emphasis on its cocktail list as its sister venues. Thirsty guests can choose from a selection of playful concoctions, each injected with an element of -˜scouse humour whilst providing a delicious and accessible drink. Whilst the menu steers clear of -˜classics, the extensive list ensures all tastes are catered for, whether guests opt for a twist on the Pina Colada with the -˜Banalada, or perhaps the slightly more adventurous -˜Fancy Bastard, made using Woodford Reserve Bourbon, Chocolate Bitters, Angostura Bitters & Fig. Beer lovers can quench thirsts with a range of steins, including everything from the Belgium sourced Mongozo (GF), to USA Portland Craft Ale.



Examples of the drinks menu include:


Purple Aki Punch (£10) - Rum, Orange Juice, Pineapple Juice, Vimto, Cointreau, Passionfruit, Grenadine & Lime

Hobo Punch (£7.50) -Gin, Buckfast Tonic Wine and tropical flavours

Milk Was a Bad Choice (£8.50) - Vodka, Amaretto, Patron Café, XO, Milk & Cream

Instant Power Sour (£7.50) - Amaretto, San Pellegrino Limonata & Cherry Foam

Toxic Avenger (£9) - Midori, Wray & Nephew Oveproof Rum, Apple, Lemon, Ting & Lemonade



On the weekend, guests can also opt for a hot dog or grilled cheese, and bottomless Bloody Mary or Espresso Martini deal available from 1pm-­-5pm. In addition to Salt Dog Slims popular food and drink offering, hidden away above the eatery is one of Liverpool's most elusive bars, 81LTD. With a daily changing entrance code and a 1940's inspired speakeasy theme, this intimate bar is one of the city's best-­-kept secrets, meaning guests at Salt Dog's can mix up their evening with a trip upstairs where they can continue dancing until the early hours.


Take a look at the new menu here!
---
Posted: Wednesday 26th July 2017
ID: 9851 - 1904