Easy like a Sunday morning at The Laundrette
The boozy brunch is a thing of joy whether you are topping up from the night before or are looking for a pimped up Sunday.
It usually comes in one of two formats; either you strike gold and find a place serving outrageously lavish dishes with endless Champagne (I lost an entire Sunday at Singapore's Hilton once because of this) or have bottomless amounts of one set drink with a classic buffet. Again, I lost an entire day at Vegas' Cosmopolitan on the Strip because of "mimosa mayhem!.
Both are great fun because you would normally be watching Sunday Brunch in bed, not living it up like 1959 Elvis.
Here in the UK we like brunch in the traditional sense with the traditional purpose. We go out on a Saturday, then use brunch as a way to cure a hungover with classic comfort food (gets lost in Pen & Pencil's avo/feta/egg dreamboat). We don't do drinking on a Sunday unless it's in church.
But over the past couple of months, restaurants have started running with the Vegas style brunch concept with all sorts of packages to choose from.
As a fan of this, I have been scanning these places over the last month trying to pick my Sunday funday but most are struggling to grasp the tradition. Either too tight on options, way too expensive, using cheap drinks or are just a bit....well, shit. It was only when The Laundrette piped up with their take on the Ibiza beach house theme did it tick all boxes. This criteria included;
Price range - £40; fine. I would spend that on lunch with wine. TICK.


Food options; 7 dishes plus pizza. It's got pizza on it. DOUBLE TICK.


Alcohol options; beer, prosecco, Bloody Marys, all sorts of other cocktails. LET'S GO NOW.



It was their first one, but it could easily had been their 10th. Staff all in on it, great tunes, and no skimping. I recall having prosecco throughout with cocktails encouraged from the offset. THIS WAS FUN.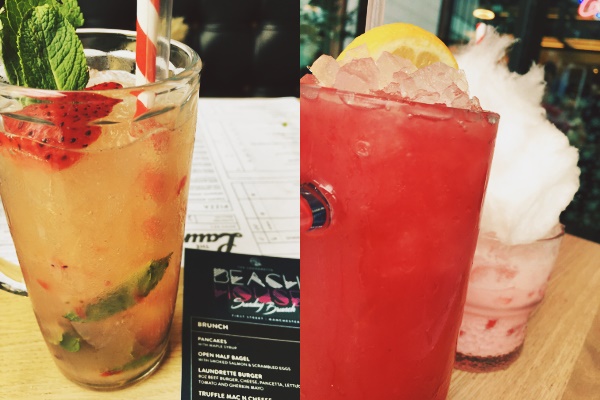 Don't these drinks look a delight? Imagine after you've sunk those, they're magically reappear full again?



My top picks are:



The Halloumi Flatbread; a cool light dish that had every element of a kebab apart from the dirty meat. Instead, a salty bite of cheese perfect with the garlic mayo. Drink match; the never-ending prosecco. Natch.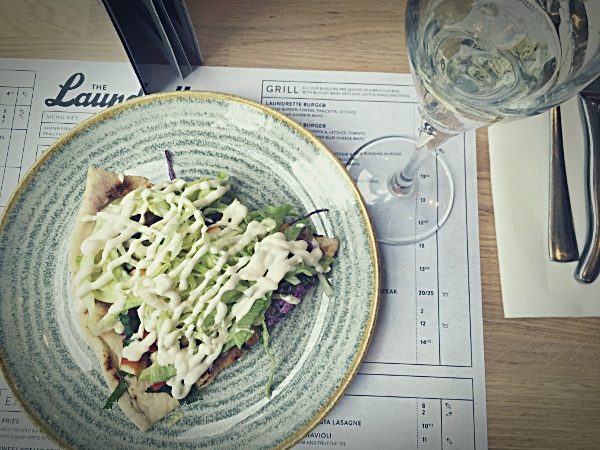 Laundrette Burger; ideal ratios of meat to cheese to pancetta. Very rich, very moreish; which is ideal when you are there for the all-you-can-eat. Drink match; the Bloody Mary. The spice of the drink cuts through that meatiness like there is no tomorrow. Couple the sweet tomato juice with the rich beef; excellent.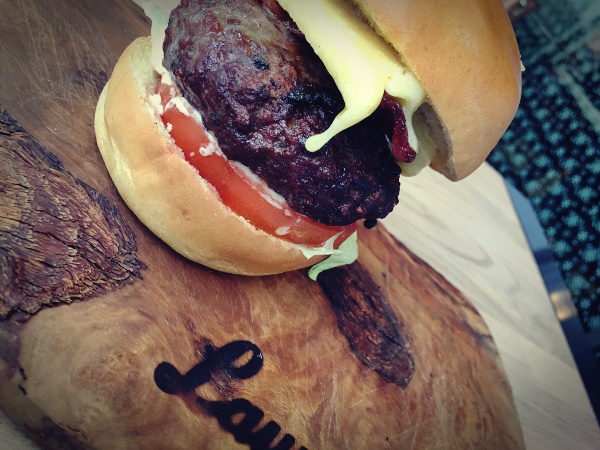 Spicy Pizza; spicy sausage, nduja, salami. This is already my favourite pizza on the menu so a delight to find it on the brunch too. The dough deserves a mention here; the perfect amount of chew. Drink match; Love Juice. It has to be. Cocktails and carbs baby! Raspberry, vodka, peach. It is a lovely fruity match for the spice. Can't get enough. Doctor, hook me up.



I would pay the £40 price tag for several reasons over competitors. For one, the cocktails are exceptional. I also dig the pizzas and would pay the £40 just for endless pizzas.



Yes, a boozy brunch is a special event. Not something I could do every week. But when I do go, it is the real deal. I highly recommend you get on their next one before word spreads....and it will. Like wild fire.



Ideal for groups of friends, for couples and for those who just don't want the weekend to end. I was part of the latter group.



Viva Laundrette!
---
Posted: Tuesday 20th June 2017
ID: 11437 - 1849