Bistrot Pierre September recipe: tagine de legumes
As summer starts to close in, Bistrot Pierre have given us a warming comfort recipe ideal for September; tagine de legumes.
Try making this stunning chickpea and apricot tagine with roasted root vegetables and green harissa in mint yogurt dressing, served with cous cous tabbouleh..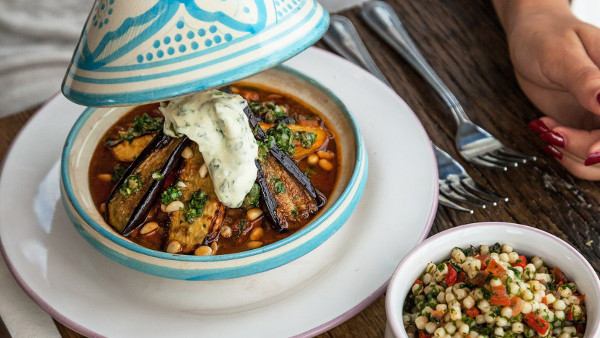 Preparation time: 25 minutes
Cooking time: 20 minutes
Serves: 4
INGREDIENTS
200g Swede
300g Aubergines
20g Pine nuts
8g Parsley
50ml Extra virgin olive oil
10g Harissa
18g Baby capers
250g Moroccan tagine sauce*
40ml Mint and yoghurt dressing*
600g Cous cous tabbouleh*
MISE EN PACE:
1. Peel and wedge swede into 1cm chunks (similar to potato wedges).
2. Cut the aubergines in half lengthways.
3. Toast pine nuts until golden.
4. Mix harissa, capers and olive oil to make dressing.
METHOD:
1. Toss the aubergine halves in oil and salt – roast flat side up on a tray in oven at 250°C for 6 to 8 minutes until cooked through and are a golden colour.
2. Toss swede in oil and salt – roast oven for 8 to 10 minutes until tender and are a golden colour.
3. Heat Moroccan tagine sauce* in a pot with chopped parsley.
4. To serve, fill each tagine with sauce base and top with hot aubergine, swede pieces and toasted pine nuts. Drizzle over Harissa dressing, mint yoghurt* and serve with a warm bowl of cous cous tabbouleh.
*Moroccan tagine sauce
INGREDIENTS:
0.5g Ground cinnamon
0.5g Ground cumin
1g Lemon zest
0.5g Paprika
45g Diced red onion
8g Chopped garlic
5g Vegetable stock powder
19g Apricots
38g Chickpeas
8g Tomato purée
30g Peeled potatoes
60g Chopped tomatoes
21g Roasted red peppers
38ml Water
METHOD: Method
1. Fry onion, garlic and peppers until soft.
2. Add cumin, cinnamon, lemon zest, paprika, tomato purée, chickpeas and apricots.
3. Add chopped tomatoes, vegetable stock, potatoes and water.
4. Boil until potatoes start breaking up.
* Mint and yoghurt dressing
INGREDIENTS:
4ml Olive oil
4ml Lemon juice
2g Mint
30ml Natural yoghurt
METHOD:
1. Mix the yoghurt, chopped mint leaves, lemon juice and salt – add a splash of water if the yoghurt is too thick.
*Cous cous tabbouleh
INGREDIENTS:
100g Pearl cous cous
200ml Water
5g Vegetable stock powder
20g Parsley
10g Mint
60g Roasted red peppers
40ml Extra Virgin Olive oil
120g Plum tomatoes
METHOD:
1. Boil water, add veg stock powder and half the olive oil.
2. Add the cous cous and simmer for 2 to 3 minutes then cover and let it steam for 10 minutes.
3. When slightly cool, separate the cous cous gently with a fork.
4. Mix all ingredients together including remaining half olive oil.
---
Posted: Friday 1st September 2017
ID: 3109 - 1921