September recipe: roast duck with baby leeks and hotpot
This month we have a wonderful duck dish for you to make at home away from the cold autumnal weather!
Ingredients:
1 duck breast
1 white onion
2 potatoes
3 baby carrots
3 baby leeks
3tbs x jus
1tbs x carrot puree
Method:
For the duck, place the breast on a cold non-stick frying pan (skin-side down) with no oil. Cook on a medium heat until the duck fat begins to come out and cook the meat. Once this happens, reduce heat and cook for 15-20 minutes depending on the size until the skin is crispy and brown. Once cooked, set aside to rest.
Thinly slice the carrots and leeks, cook them until soft in milk and butter. Season then remove leeks and blend carrots until smooth and pass through a sieve.
For the hotpot, finely slice the potato and white onion. Lay parchment paper onto a gastro followed by two layers of potato then season, then add a layer of onion and clarified butter on top. Then do two more layers of potato, then season. Add another layer of onion and clarified butter. Cook in the oven on 175c for 1 hour 20 minutes. Parchment the top then put another pan on top and put some weight onto it and chill. When all else is ready, warm the hotpot thoroughly.
Serving:
Place the hotpot potato on the plate with a swipe of carrot puree next to it. Slice the duck in half and place on top of the carrot puree. Place the Leeks and Carrots randomly on top and finish with the jus.
Enjoy with a nice glass of Pinot Noir.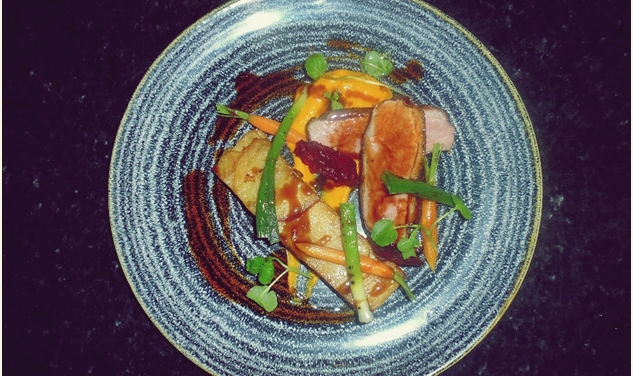 ---
Posted: Wednesday 13th September 2017
ID: 11476 - 1925